Links are to the Rotten Tomatoes Web site, where you can read what other critics and moviegoers thought of each film. Ratings are from * (stinker) to **** (absolutely wonderful). Theatrical release date is in parentheses, followed by whether we saw the movie in theatre or as a home rental.
S
***½ Saint Ralph (August 2005) – Theatre
Campbell Scott, Gordon Pinset. Fourteen-year-old Catholic boy trains for the Boston marathon in a bid to create a miracle that will cure his comatose mother.
She says: Really nice little movie. Though the synopsis sounds rather grim, it's actually a funny and uplifting story. Cambridge, Ontario actor Campbell Scott is very good in the lead role.
He says: That was good! I liked that movie.
***½ The Sapphires (March 2013) – Theatre
**½ School of Rock (October 2003) – Theatre
Jack Black. Failed rock guitarist takes on a substitute teaching job at a prep school, and decides to teach the fifth graders what he knows: how to rock.
She says: A perfectly amiable movie that doubles as a tribute to classic rock. Jack Black and Joan Cusack give spirited performances that make the whole thing quite enjoyable. (***)
He says: There wasn't one original moment in that whole movie. (**)
She editorializes: See a trend here? Art movies, action movies, comedies… Jean has given them all a thumbs down. And you'd think that I would be the picky, hard-to-please one…
** Scooby-Doo (June 2002) – Theatre
Sarah Michelle Gellar, Freddie Prinze Jr. The post-modern adventures of the Scoobie gang.
She says: The good news is that it's not a stinking bad movie. The bad news is that, except for a few fun scenes, it's pretty dull — at only 90 minutes, it actually seemed long. I didn't care about the characters or the plot. (*½)
He says: It wasn't that bad, was it? Not a great movie, of course, but kind of fun. (**)
*** Scott Pilgrim vs. the Universe (August 2010) – Theatre
Synopsis: Michael Cera, Mary Elizabeth Winstead. Scott Pilgrim meets the girl of his dreams but finds he must defeat her seven evil ex's to win her heart.
She says: Well, that certainly moved along. Very witty. And Cera's great. But it's not a movie for everyone, and it wasn't 100% for me.
He says: OK, I wasn't bored. But the pink-haired girl wasn't really my type, and the Japanese girl was cute but way too young.
*** Secretary (September 2002) – Theatre
James Spader, Maggie Gyllenhaal. A (mild) S&M love story.
She says: A rather fascinating look at an S&M relationship. It's a bit odd, it's certainly not politically correct, but it's nevertheless loving and even liberating. Both stars are very impressive in these challenging roles.
He says: … <This one left him utterly speechless…>
*** The Secret Life of Bees (October 2008) – Rental
Dakota Fanning, Queen Latifah. Young teenage girl leaves her abusive father to explore her late mother's past with a group of bee-keeping sisters.
She says: A pretty good adaptation of the novel. Performances were good and though the "critical consensus" said it was too sentimental, I didn't find that to be the case. And I hate sentimental.
He says: I didn't pay enough attention to have an opinion of this one.
*** Secret Things (April 2003) – Rental
*½ Secret Window (March 2004) – Theatre
Johnny Depp. Writer is tormented by a stranger who insists his story was stolen.
She says: It's rare when you can pick the exact moment when a movie goes wrong, but with this one, you can. What starts as an effective thriller takes a plot twist that it just can't recover from. Depp is fine, but he can't save every film. And the irony? One of the movie's themes is that nothing matters if the ending isn't good.
He says: What she said. It's good for the first two-thirds, then huh?
***½ Seducing Dr. Lewis (La Grande Séduction) (December 2003) – Theatre
Small town in Québec attempts to trick a doctor into moving there so they can get a factor to open. French with subtitles.
She says: This was the funniest movie I've seen in a long time. Highly recommended.
He says: Good — really funny.
**** The Sessions (October 2012) – Theatre
John Hawkes, Helen Hunt, and William H. Macey. Journalist and poet Mark O'Brien, whose childhood polio has left him confined to an iron lung most of the day, but who does have functioning genitalia, becomes determined to lose his virginity at age 38, with the help of a sex therapist.
She says: The trailer for this movie makes it look really funny, and much of it is, in the interaction between Mark and his caretakers, and especially with his open-minded priest, played by William H. Macey. But it is also really touching, especially in the relationship between Mark and his sex therapist, Cheryl. Cheryl (who is married) knows the pitfalls of transference and how to set limits on the sex therapist / client relationship, but her own emotional response makes these harder to maintain as the sessions (six maximum!) continue.
The sex in this movie is really beautiful, not because of amazing bodies or great cinematography, but because it really is an expression of intimacy and love. It's triumphant.
He says: That was a really sweet movie. (And that's all you're allowed to quote me on.)
*** Serenity – Theatre (September 2005)
Nate Fillion, Gina Torres. Movie adaptation of the Firefly television series, catching up with the Serenity crew some months later.
She says: While not as much character development is possible in a two-hour movie compared with a television series, still proves that you can have a shoot-em-up action movie with heart, smarts, and humour. And yes, character development. Thanks, Joss.
He says: Wow, that was really violent. Didn't you find that violent?
**½ Sherrybaby (December 2007) – Rental
Maggie Gyllenhaal, Brad Henke. Former drug addict, just released from prison, tries to reconnect with the daughter her brother has been raising.
She says: Gyllenhal is great, the movie is alright—a bit dark, a bit slight, but certainly worthier than many on the video shelf.
He says: They forgot to finish the movie.
*** Side Effects (February 2013) – Theatre
***½ Silver Linings Playbook (April 2013) – Theatre
**½ The Shipping News (January 2002) – Rental
Kevin Spacey, Julianne Moore. New Yorker moves to his ancestral home of Newfoundland after the death of his wife.
She says: Except for Kevin Spacey, I think the gold-star cast is really a detriment to this movie. I couldn't buy Judi Dench and Julianne Moore as Newfoundlanders. Their star presence detracted from the story.
He says: It was OK, but not a lot happened…
*** Shopgirl (October 2005) – Rental
Steve Martin, Claire Danes. Based on the novella by Steve Martin, follows the relationship between lonely artist (and shopgirl) Mirabelle and the older, wealthy Ray Porter.
She says: They did a nice job of adapting this novella, which was very "interior", without too much voiceover (though some was used). Claire Danes is great, and so is Jason Schwartzman, as the initially hopeless Jeremy.
He says: Didn't we see that already? [To which she says, "No, we listened to the audiobook."]
***½ Shortbus (October 2006) – Theatre
Sookyin Lee, John Alan Cameron. Various characters seek human connection, both sexual and emotional.
She says: Surprisingly sweet, considering all the sex in it. Also arty enough to be intellectual intriguing. Feels like the movie works on the right side of your brain.
He says: I had no idea there was going to be so much sex in that movie.
***½ Shrek (March 2001) – Theatre
Mike Myers, Cameron Diaz. An ogre tries to regain the sanctity of his swamp from the fairy tale creatures that have taken refuge there.
She says: It's great fun how this movie subverts the usual clichés of the cartoon fairy tale "genre." And the computer animation is amazing.
He says: I don't always go for cartoons, but I liked that.
***½ Shrek 2 (May 2004) – Theatre
Mike Myers, Eddie Murphy, Cameron Diaz. Wherein it's time for Shrek to meet Princess Fiona's family.
She says: Quite a fun little movie. Zips along nicely, looks great, and is full of humour and sly pop references.
He says: It was good. I'm not sure it was better than the first one, but it was good.
*** Shut Up and Sing (October 2006) – Theatre
Dixie Chicks. Documentary about the excessive reaction to Natalie's comment about being "ashamed the President of the United States is from Texas".
She says: Well-constructed documentary that neatly contrasts the real and very likeable women the Dixie Chicks are with the violent, nasty attacks against them. Just astounding, especially when you see the actual footage of what was a very innocuous, offhand comment.
He says: I'll meet up with you when the movie's over.
*** Sicko (July 2007) – Theatre
Documentary. Michael Moore's look at the American health care system.
She says: Strongest and most alarming in presenting the stories of Americans with insurance who get denied care for absurd reasons, often with tragic consequences. Sure, he oversimplifies the case of other countries' funded system, but not to the detriment of the very strong case that the American "system" really is sicko.
He says: It was a bit over the top, but definitely interesting.
**** Sideways (October 2004) – Theatre
Paul Giametti, Thomas Hayden Church. Two friends take a last bachelor trip in California's Santa Ynez valley.
She says: "They" are right; it's almost impossible not to like this little movie about wine, friendship, romance, and growth. A great and rare blend of very funny scenes with quite serious ones.
He says: Though it would have been fun to argue with Robin on this one too, I liked this movie too much to disagree with her on it.
*** Signs (August 2002) – Theatre
Mel Gibson, Joaquin Phoenix. A family mourning the loss of their mother tries to cope with strange occurrences, including crop circles.
She says: I'm not sure I agree with the vision of faith put forth in this movie, but does serve as a very solid framework for the narrative. A well-executed, suspenseful movie with surprising — and very welcome — bursts of humour.
He says: It scared me.
*** A Single Man (December 2009) – Rental
Colin Firth, Julianne Moore. A man decides to end his life after the accidental death of his partner, and enjoy his last day.
She says: I found this movie really compelling while watching it, and feel even more impressed after thinking back on it more. It's very simple, really, all taking place on one fairly ordinary day, but rendered special by the main character deciding this day will be his last. I'd never seen the subtle but effective use of color tone to reflect the character's mood. And the whole movie is gorgeous; get the Blu-Ray.
He says: That's two hours I'll never get back.
***½ Slumdog Millionaire (December 2008) – Theatre
Dev Patel, Anil Kapoor. As a poor kid from the slums, Jamal's success in the Indian version of Who Wants to Be a Millionaire raises suspension.
She says: Widely advertised as a "feel good" movie, I was a little unprepared for the grim opening acts of this film. But things do turn around, and it is an engaging story throughout.
He says: The woman in that movie was some good-looking! Yep, no problem staying awake for this.
***½ Snow Cake (2006) -–Theatre
Alan Rickman, Sigourney Weaver. Tragic car accident leads a man to temporarily move in with an autistic woman in the Northern Ontario town of Wawa.
She says: Recommended. Funny despite the tragedy that sets off the action, great characters, and definitely cool to see Northern Ontario playing itself. (Although the main character's planned journey is completely illogical, if you're familiar with the area…)
He says: Yeah, I liked it. It was fun to see a movie set in Northern Ontario, and enough stuff happened to keep me interested.
*** The Snow Walker (2003) – Pay-TV "View on Demand"
Barry Pepper, Kiersten Warren. A plane bearing a cocky Canadian pilot and an ill native woman goes down in Northern Canada.
She says: A great-looking movie with a spare but compelling story. I kept expecting cliches and highly emotional scenes, but kept being surprised on that count.
He says: That was well done and interesting. I liked that it wasn't overly sentimental.
***½ The Social Network (October 2010) – Theatre
Jesse Eisenberg, Andrew Garfield, Justin Timberlake. An inside look at those responsible for the creation of Facebook.
She says: Witty, fast-paced, and fascinating look at the anti-social nature of the man who created Facebook. Made me want to read that old New Yorker profile again.
He says: A really fascinating movie about a really sad, unlikeable men.
***½ The Spectacular Now (August 2013) – Theatre
Miles Teller, Shailene Woodley, Brie Larson. On the rebound, popular teenager Sutter Keely unexpectedly takes up with the decidely less popular Aimee Finecky, and the relationship develops in a way neither expects.
***½ Spider-man (May 2002) – Theatre
Tobey Maguire, Kirsten Dunst. The origins of the Marvel Comics webslinger.
She says: Finally, a big-budget action movie that also has a decent plot and interesting characters.
He says: It was good. That Kirsten Dunst has her own kind of superpowers…
**½ Spider-Man 2 (July 2004) – Theatre
Tobey Maguire, Kirsten Dunst. Peter Parker finds his dual life as Spiderman an increasing burden.
She says: Nicely done, once again proving that just because it's an expensive movie based on a comic book doesn't mean you can't have good acting, well-developed characters, and human emotion. (***)
He says: Sorry, I liked the first one better. This one was overly sentimental, predictable, and contrived. And Kirsten Dunst didn't look as good. (**)
Robin says: Are you crazy? Did you see the same movie I did? How can you say the first one was better?
*** Stage Beauty (October 2004) – Rental
Claire Danes, Billy Crudup. 17th century actor Ned Kynaston struggles to adapt when theatre rules changes, allowing women to play women's parts.
She says: A quite interesting film, looking at sexual identity, acting techniques, and women's issues—all in the context of a kind of offbeat romantic comedy. Crudup and Danes are both very good and have nice chemistry.
He says: I enjoyed that movie.
*** Stardust (August 2007) – Theatre
Claire Danes, Michelle Pfeiffer. Fantasy about a star who falls to earth and gets mixed up with a young man on a quest.
She says: That was pretty enjoyable. Kind of reminded me of Princess Bride. Although not as good as that movie.
He says: A bit of a chick flick, but OK.
***½ Star Trek (May 2009) – Theatre
Chris Pine, Zachary Quinto. Re-imagining of the original Star Trek series.
She says: Very entertaining without being stupid. Lots of action, but good characters as well. No way Kirk could survive so many blows to the head in such a short time, but I'll let it pass.
He says: Really fun movie—I needed a guy movie! And I love those short skirts…
*** Star Trek Into Darkness (May 2013) – Theatre
**½ The Stone Angel (June 2008) – Theatre
Ellen Burnstyn, Christine Horne. To avoid nursing home admission, 90-year-old Hagar Shipley escapes from her house and into the memory of her life choices and their consequences.
She says: Well-acted, funny at times, certainly holds the attention, but it's undoubtedly a drama.
He says: It wasn't a bad movie, but certainly a bit of downer.
*** Superbad (May 2008) – Rental
Comedy about three high school boys trying to improve their social prospects by getting alcohol for a party.
She says: Crude, certainly; exaggerated, for sure—but also funny, and kind of sweet. On the good side of the Apatow canon, from my perspective.
He says: I thought I was going to hate that movie. I'm still surprised it redeemed itself. It was over-the-top, but funny.
***½ Super-Size Me (May 2004) – Theatre
Morgan Spurlock. Documentary about a man who decides to eat nothing but McDonald's food for 30 days.
She says: You go in expecting nothing but a gross-out, but get quite an interesting exploration of the marketing of food in America in general. It's truly stunning to see the dramatic and rapid negative effects that befall this man who is perfectly healthy at the start.
He says: I can't believe you went to the movies without me.
T
**** Take This Waltz (June 2012) – Theatre
Michelle Williams, Seth Rogen, Luke Kirby. Young couple meet and are instantly attracted. Unfortunately, she's already married to a great guy.
She says: This movie took me on a journey.
The beginning was rocky: slow, presenting the initial meet of Margot and Daniel, but then focusing more on the quirks of her marriage with Lou. The couple comes off as really annoying. At this point, I didn't particularly like the movie.
But most of the movie focuses on the "in between", which Margot confesses, in the beginning, is a state she can't stand. During this part, I got caught up in her dilemma: Will she or won't she give in to her passion? Should she or shouldn't she? Margot and Daniel circle around each in a desirous dance that could hardly be sexier (though that response may be a girl thing)…
And the way the movie concludes, which I won't spoil, made me love it. The cinematography, the music, the story progression… Fab.
He says: I knew before you said that you liked that one, but I just didn't get it. I didn't understand them, I didn't understand the point.
Michelle Williams was adorable, though. I love her look.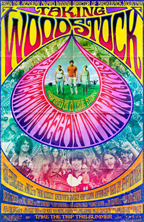 ***½ Taking Woodstock (August 2009) – Theatre
Demetri Martin. Story of how Elliot Martin saved his parent's run-down motel—and freed himself—by bringing the Woodstock Music Festival to his home town.
She says: A fun and interesting sidelong view into the Woodstock Festival, and how its influence was felt even by those who were too far away to really hear the music.
He says: I really liked that. It was fun.
*** Tarnation (October 2004) – Rental
Jonathan Caouette. Documentary about the filmmaker's relationship with his mentally ill mother.
She says: Odd, but unique in style and compulsively watchable. The horrible facts are peppered on-screen in large subtitles: electric shock therapy, raped in front of her son, acted out and set fire to the house… The video dates back to the filmmaker's playing with a camera when he was 11. The whole comes together with recent events in a very touching way.
He says: It's like watching a two-hour car crash.
He also says: Honey, I love you, but you have weird taste in movies.
*** Temple Grandin (February 2010) – Rental
Claire Danes, Julia Ormond. Dramatization of the young adult years in the life of Temple Grandin, an autistic woman who had great career success.
She says: Claire Danes is terrific in portraying Temple Grandin, and the filmmakers do an interesting job of giving us a view into her world by filming parts in the visual, literal way that she sees it. I grew a little tired of the open door metaphor (that she saw literally), but that's my only complaint. The movie would probably have been even more compelling if I hadn't gone in knowing a fair amount about Temple Grandin.
He says: That was an interesting movie.
** Topsy-Turvy (1999) – Rental
Jim Broadbent, Allan Corduner. Gilbert and Sullivan's efforts to make The Mikado.
She says: Surprisingly interesting, considering it's mostly a love letter to The Mikado, an operetta I don't have any particular fondness for. Almost surprising how understated the backstage drama is.
He says: I can't watch this.
*** Touch of Pink (July 2004) – Theatre
Canadian of Indian descent tries to hide his relationship with a British man from his mother.
She says: A bit pat, but enjoyable nonetheless.
He says: Too bad they spoiled all the funniest parts by putting them in the preview, but I still liked the movie.
***½ Toy Story 3 (June 2010) – Rental
Tom Hanks, Tim Allen. A transitional period in the toys' "lives" as Andy prepares to go to college.
She says: Nothing to complain about in this "kid's" movie which, to my amusement, was happily watched by four adults, no kids. It was by turns funny, touching, and exciting, all edited into a story that held together beautifully. Proof that sequels don't have to suck, even when they get to number 3.
He says: What part was supposed to make me cry?
*** Traffic (December 2000) – Theatre
Michael Douglas, Catherine Zeta-Jones. Futility of the war on drugs.
She says: Interesting exploration of the "war on drugs." None of the characters are heroes, because this just isn't the way to deal with the drug problem.
He says: It wasn't that good, was it?
***½ Transamerica (December 2005) – Theatre
Felicity Huffman, Kevin Zeggers. Pre-operative transgered Bree discovers she has a son, and travels to his aid.
She says: Felicity Huffman is very good as the transgendered Bree, but I was even more taken with the young actor playing her street hustler son—very hot guy, but putting in a very good performance. Though serious issues underlie it, the story of their road trip together is told with a light touch, and never becomes dull.
He says: I liked that they didn't make it too sentimental—it had a lot of funny parts. And Graham Greene was good.
** Tropic Thunder (August 2008) – Rental
Ben Stiller, Robert Downey Junior. Actors in a war movie unknowingly find themselves in an actual war zone.
She says: Robert Downey Jr. was excellent in this, and the movie certainly had funny parts, but overall it was a little too gross and immature for me.
He says: It was OK. I wouldn't watch it again, though.
*** 21 Jump Street (May 2012) – Rental
U
**** United 93 (May 2006) – Theatre
Reconstruction of the events surrounding the crash of United 93 on September 11, 2001.
She says: The documentary style puts you right in the middle of things and gives you a whole new view of that day. An emotional experience, but extremely well-done.
He says: I can't see that movie.
***½ Up (May 2009) – Theatre
Animated. In tribute to his deceased wife, elderly balloon saleman sets off for adventure by tying thousands of balloons to his house.
She says: I went in not knowing anything about this except that it was Pixar, and it was supposed to be good. And that's all I needed to know. Once again, Pixar delivers a a completely engaging movie that effectively mixes pathos and humor. I couldn't detect the 3D that much (my eyes aren't balanced), but that hardly mattered. 2D or 3D, it's great viewing.
He says: Now that was fun.
***½ Up in the Air (December 2009) – Theatre
George Clooney, Vera Farmiga. Ryan Bingham lives on the road, a consultant who fires people, when a change in company policy causes him to rethink his personal philosophies.
She says: A movie of small surprises, as all characters turn out to be more than just cliches, and the plot refuses to follow the conventional arc. Along with the fact that Clooney and most other actors are excellent and the script is witty, it's highly worth seeing.
He says: I liked that. It kept me entertained, it surprised me, I enjoyed the characters. Even though not much happened.
V
*** A Very Long Engagement (November 2004) – Theatre
Audrey Tatou. A young woman with polio tries to find out what happened to her missing fiancé in World War I. French with English subtitles.
She says: Good, but not what I was expecting. A lot more war and mystery and a lot less romance than suggested by the title and the marketing.
He says: Interesting. The war scenes were kind of intense.
***½ The Virgin Suicides (1999) – Theatre
Kirsten Dunst. Boys struggle to understand the mystery of the beautiful but doomed neighbourhood sisters.
She says: Not as dreary as you might expect; it actually has a lot of moments of humour. Well worth seeing.
He says: That was kind of dark.
*** The Visitor (March 2012) – Rental
Richard Jenkins, Haaz Sleiman. A college professor merely going through the motions of his life finds renewed purpose in an expected friendship with an illegal immigrant who is also a musician.
She says: A simple yet effective movie. It's good to watch the main character "blossom" in this late stage of his life, as he gets involved in Tarek's native music and his fight to stay in the country.
He says: So. Another movie that doesn't really end; it more just stops.
W
**½ The Watchmen: Director's Cut (December 2009) – Rental
Adaptation of Alan Moore's graphic novel.
She says: Having read the graphic novel this is based on, I was mostly intrigued by seeing its complexities come to life. It stayed pretty faithful, so nothing was too surprising. It was violent, but I was expecting that. I have no idea what this movie would be like if you haven't read the original. If you have, you might want see this. And likely in this extended version.
He says: That was not my favorite. [He has not read the graphic novel.]
She says: Really? That's interesting. Why? Was it confusing? Too violent? Not enough depth to the characters?
He says: [Pause] I don't analyze movies like that. I just didn't like it that much.
***½ Waitress (May 2007) – Theatre
Keri Russell, Nathan Fillion. Pregnant and trapped in an unhappy marriage, waitress and genius pie maker Jenna finds some comfort in the attentions of the new doctor in town.
She says: A style and a voice not quite like any other movie I've seen gives a humorous layer to what could be a really dark story. Every actor seems pitch-perfect in their part.
He says: But nothing happened!
…. Kidding! I actually really enjoyed that movie. The actors were very good.
*** Waltz with Bashir (May 2008) – Rental
Animated documentary. An Israli man tries to recall the details of his participation in the massacre of Palestanians that occurred during the first Lebanon war.
She says: I'm not sure what this indicates, but I didn't realize that this was a documentary. I thought all the interviews and such were just a clever way of framing the movie. But, I knew it was based on a real incident, one I knew nothing about. I found this an interesting way to learn about it, with the animated style creating some distance in the disturbing events.
He says: It was all right, but didn't quite hold my interest.
**** The Way, Way Back (July 2013) – Theatre
**½ Whale Rider (June 2003) – Theatre
Vicky Haughton, Keisha Castle-Hughes. A New Zealand girl believes in her ability to be a leader—despite her gender.
She says: A bit slow at times, but ultimately quite moving. Interesting to see the "girl power is shared power" theme isn't just a North American one. (***)
He says: It was OK. I would have liked it better if the Grandfather character wasn't such a jerk. (**)
*** What Lies Beneath (July 2000) – Rental
Michelle Pfeiffer, Harrison Ford. Strange happenings on a country estate seem to point to murder.
She says: A pretty well-executed thriller. Not recommended for those with a fear of drowning. (And one complaint: the two actresses looked so much alike it was difficult to see when one morphed into another.)
He says: It wasn't a great movie, but it was a good movie.
*** When You're Strange: A Film About The Doors (April 2010) – Theatre
The Doors. Documentary about their career.
She says: Moves along well, includes some little-seen footage, and provides a nice history of a band who was far more popular at the time (and of course, remains so) than I'd remembered.
He says: Thanks for not taking me to this movie with you!
**½ Whip It (October 2009) – Rental
Ellen Page, Drew Barrymore. Young girl finds the thrill of roller derby much more to her taste than her mother's pageant aspirations.
She says: It's certainly likable and moves along, but the story really follows a predictable pattern, and the roller derby sequences just don't come across as well as they might.
He says: Way less sexist than I was expecting a "movie about roller derby girls" to be.
**½ Who Killed the Electric Car? (July 2006) – Theatre
Investigates the disappearance of GM's electric cars from California in the early 1990s.
She says: Not the best pacing of the information, particularly once you've read about the main findings of this documentary. If you don't know them, however—and to some extent, even if you do so—it's an interesting and somewhat infuriating look at how a promising environmental technology was destroyed.
He says: Well, it wasn't a great movie, but it was an interesting story.
* Wild Things (1998) – Rental
Kevin Bacon, Neve Campbell, Matt Dillon. Twisty plot about sexual harassment, murder, and whatnot.
She says: The plot twists so much that, in the end, the whole movie makes no sense, and it's just irritating.
He says: That was stupid. What a bad movie.
*** Wimbledon (September 2004) – Rental
Paul Bettany, Kirsten Dunst. A tennis player on the eve of retirement finds his life and game energized through romance with a rising young American tennis player.
She says: A fairly pedestrian romantic comedy elevated by its two very appealing lead actors, and by some truly exciting tennis sequences.
He says: Didn't we already see this? [She says: Just the first part. Now we're seeing the whole thing.] Oh. Hey, that Kirsten Dunst is really cute.
*** Winged Migration (April 2003) – Theatre
It's a documentary. About birds.
She says: Features stunning, "how did they film that?" cinematography and a sort of narrative structure that holds your interest throughout.
He says: The cinematography was amazing, but it was a bit long. And I wish the narrator had always told us where the birds were from.
*** With a Friend Like Harry (April 2001) – Theatre
Laurent Lucas, Sergi Lopez. Forgotten childhood friend insinuates himself into the life of Michel and his wife — but why? (French, with subtitles)
She says: Suspenseful and intriguingly un-American in its inspirations.
He says: It was freaky.
*** When the Levees Broke (August 2006) – Rental
Spike Lee documentary looking back at Hurricane Katrina and its aftermath.
She says: This four-part documentary uses copious interviews, mostly with those involved, to tell the story of Hurricane Katrina. You revisit parts you heard about at the time, and learn a great deal that you probably did not. I remain stunned at just how badly the US government treated its own people, at the time, and afterward.
He says: This is a bit of downer.
*** Woodstock (1970) – Theatre
Documentary of the famous 1969 music festival: Three days of peace, love, and music.
She says: Quite interesting to see, especially right after seeing Taking Woodstock. Perhaps most fascinating the interviews and segments between the music, of the audience members, townspeople, organizers… But most the musical performances are quite compelling as well, even of artists I'm not that familiar with, like the charismatic Richie Havens and the intense Ten Years After. The camerawork often aided in that, creating some excitement around, say, a long guitar solo that might otherwise have dragged. Of course, my favorite part was The Who, in tri-pane… And the least? It may be sacrilege to say, but I was a bit bored by the Jimi Hendrix finale. So much guitar canoodling. Brilliant canoodling, I'm sure, but still.
He says: Know what the best thing about this one is? That I didn't have to go see it!
*** Wordplay (June 2006) – Theatre
Bill Clinton, Jon Stewart. Documentary about devotees of the New York Times crossword puzzle.
She says: Though I'm not a big crossword puzzle fan myself, it was still interesting to learn how these puzzles are created and to see just how fast the best can complete them.
He says: Have fun at the movies, dear!
Y
*** You Can Count on Me (November 2000) – Theatre
Laura Linney. Complex relationships between a brother and sister and her son.
She says: Excellent, character-driven movie with no heroes or villains — just people trying to deal with one another.
He says: It wasn't bad, but I found some parts slow. There wasn't quite enough plot.
*** Young@Heart (April 2008) – Theatre
Documentary about a choir of Seniors who sing rock songs.
She says: Songs like "Golden Years", "Stayin' Alive", and "I Wanna Be Sedated" really take on a different tone when sung by individuals of an average age of 80. They're an enjoyable group to spend time with; though not necessarily rock music fans, they love to sing and love the companionship of the choir. There is certainly a poignancy in that, given the average age, not everyone will survive the season, but those who participate and those who listen to them all gain a lot.
He says: I enjoyed this movie. Parts were hilarious. And interesting to see how participating in an activity like this really increases your lifespan.
*** Young People F*cking (September 2008) – Rental
Aaron Abrams, Carly Pope. Comedy that follows friends, roommates, a couple, a first, and exes through the six stages of, um, fornicating.
She says: The scenarios are funny because they are realistic, something that is rarely true about sex on-screen. Certainly held my interest.
He says: I didn't realize it all took place… inside. It was funny. I liked it.
***½ Y Tu Mama Tambien (And Your Mother Too) (March 2002) – Theatre
Maribel Verdu. A road trip featuring two 17-year-olds boy and a 28-year-old woman. (Spanish, with subtitles)
She says: Sexy and fun, but also deeper than it appears at first, as it focuses on endings — of relationships, of lifestyles, and of lives.
He says: That was unexpected…
Z
***½ Zodiac (May 2007) – Rental
Jake Gyllenhaal, Robert Downey Junior. Reporters and police follow the trail of the Zodiac serial killer in the 1960s and 1970s.
She says: So strange it's hard to believe it's based on actual events, but it was. Manages to give some resolution, even though the case was never actually closed.
He says: That was a good movie, eh?