Things are tentatively reopening in Ontario—parks (not for camping yet), stores (but not the ones in malls), some medical and veterinary procedures (excluding dentists and optometrists).
But Ontario simply hasn't been testing enough. So we just don't know what the real levels of community spread are. The only certain thing, at least in my part of Ontario, is that there is some.
So you really have to do your own risk assessment to determine what newly possible activities you want to take advantage of. The blog post The Risks – Know Them – Avoid Them has been really influential, with a lot of newspaper articles covering similar points. What's the gist?
Successful infection = Exposure * Time.
The worst cases occur with a group of people close together indoors in a building with poor ventilation who are speaking loudly (or singing) and sharing food. So it's safer to be outdoors, and when indoors, best to be able to keep some distance from others, and not stay too long.
This means that some activities that many of us have been worried about—because it's the only ones we privileged types have been going out to do—aren't actually that much of a risk. Walking (or riding or jogging) past people outside, even if it's a bit less than six feet away—is not that risky because the interaction is so brief and the virus doesn't transmit that well in open air.
Going to the grocery store? Also not that bad, because you're not there that long, the number of people is restricted such that it's not crowded, and you're moving around fairly quickly past different people. Plus with the lone shopping, not so much talking going on. Wearing a mask is a nice gesture also, mostly to protect the store workers from you.
So it will be with other stores that can now open but with restricted occupancy. Plan what you want to buy there, get it efficiently while keeping space, then get out. Wash your hands, and wash them again after unpackaging whatever you bought. (And wash your mask if you wore one.)
Odds are you're going to be all right.
Working 9 to 5
But what about working in our own offices for 8 to 9 hours a day?
I would note that I have not been asked to do this, so this is merely hypothetical musing.
Atul Gawande, in the New Yorker, notes that hospitals have done a pretty good job of preventing spread among healthcare workers there, and wonders if some of there approaches can be adapted to other workplaces: Amid the Coronavirus Crisis, a Regimen for Reentry. The four-point plan is basically:
Employee screening, with orders to stay home if you're sick
Gawande notes the issue with relying on temperature checks only: Apart from the fact that some with the disease never do develop a high fever, for those that do, the onset is typically later than with other, milder symptoms. So you really want people with scratchy throats or body aches staying away, even if they're fever-free. That would need to be made clear.
2. Frequent hand washing
Great, as long as there is copious hand sanitizer about. Otherwise, there would be serious sink lineups happening.
3. Keep distance between employees as much as possible
Definitely a challenge in my office, which (like many) has gone for cramming more cubicles into less space, and even some "banquet table" style seating (side by side and facing, with no separation at all). Many of us having standing desks that put us above divider height (as lower dividers were installed to encourage collaboration). Is it possible to rearrange everything to actually seat everyone six feet apart, with higher dividers? Dunno.
4. Wear masks
Yeah, it's one thing to wear a mask for a brief shopping trip or transit ride, but quite another to wear one for most of an 8-hour work day. Yes, healthcare workers do, and thank you to them: I've seen the photos of how uncomfortable that is. But surgical masks, at least, are better masks than the ones we can get (per the Gawande article); less hot, more breathable.
Furthermore, what about my drinking habit? Seriously, at work, I drink all day long. First coffee…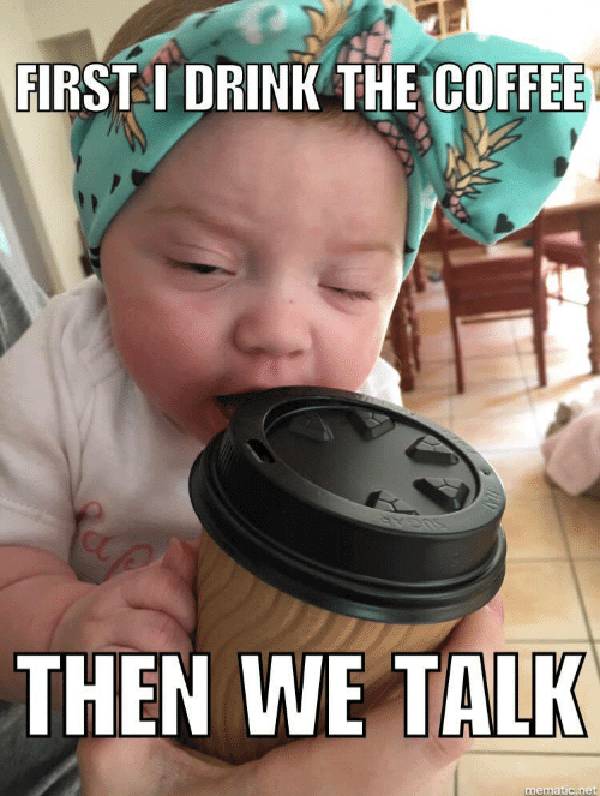 Then water, then maybe a tea, a decaf, some more water… I think it somewhat defeats the purpose if you're constantly taking the mask off and on (and so is everyone else). But working dehydrated and with a caffeine headache, with a sweaty face and foggy glasses, does not sound like a recipe for great productivity. (And what about lunch? My afternoon snack?)
So I think some thought needs to be given as to the purpose of actually returning to work at the office.
Environmental factors
For me, though I'm slowly working on it, it's still true that my office setup is more ergonomic than my home one; my desk there is just better For some people, home might not be a particular good workspace due to noise, pets, lighting, other family members, etc. For those purposes, it could make sense to allow a certain percentage to work at the office each day, as potentially the numbers could be kept low enough that spacing is fairly easy and masks less necessary.
Social factors
Seeing people, and the ease of talking to them. Team building. Building culture. All being missed, but how easy to get back?
You can't be cramming people into small meeting rooms to have discussions like we used to. We can't have fitness classes with the previous numbers of attendees. The communal kitchen is a bit of a hazard. Coffee machines might be have to be disabled, so more chats there. Going over to talk to someone might be less welcomed. We can't open windows. Outside meetings could be nice in July, less so in January. The elevator could become a scary space. Also, the bathroom.
Basically, it's hard to build warm and fuzzy feelings toward your coworkers when they seem like disease vectors.
And what about leisure activities
The Saturday Globe and Mail featured a list of 46 changes they predicted for the post-pandemic world. (Most of these items are not available online, I'm finding—so no links for you.) I didn't find it too depressing til I got to the Arts section. (Whereas, the point that flying might not be that fun—or cheap? Not exactly new, right? And at least we might finally get more space.)
But it wasn't the one about rock concerts likely moving toward smaller venues with sky-high ticket prices. For one thing, there aren't that many bands still on my "must-see" list. For another, if I did feel I could indulge in such an experience, it could be kind of cool. The article also postulated a cheaper streaming option might be available—which doesn't sound bad.
And the one claiming that movie theatres would only play blockbusters seemed doubtful. Wouldn't your little art movies, attracting only the smaller crowds you want, be more feasible?
No, it was the one about theatres moving more to one-act plays, because:
a) They're cheaper, so the crowd can be smaller
b) Makes it way easier for the actors to keep distance than in a big musical
But not because of plays themselves, which I don't go to that often anyway.
It's that it made me think about symphonies.
By their nature, that's a whole lot of musicians crowded together, some of them playing wind instruments. (Which sometimes need to be cleared of spittle mid-concert, as I recall.) Let alone when it's a special show with singers or dancers or trapeze artists, or what have you.
And how close the audience seats are? And the crowded lobbies before? And the bathroom lineups? How do you get this to work?
Is it viable for a symphony to play with the musicians spaced apart on the stage, to a 25% capacity house, if that's what's needed?
I'm doubtful. And it makes me really sad.